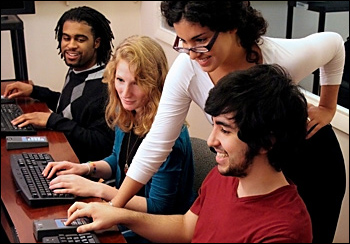 About MFORCE
Since 1998, MFORCE Research has been providing a varied array of marketing research services and is a recognized authority for their experience in Audience Response Technology and the uniquely blended qualitative/quantitative methodology known as Instant-response and Electronic Data Collection. 
How Are We Different?
MFORCE's experience and expertise is specifically in the operation and proper utilization of these audience response technologies and methodologies. Working alongside strategic partnerships, we have pioneered some of the most innovative uses of this technology and technique.  MFORCE also offers nationwide (multi-target; multi-ethnic/cultural) recruitment capabilities.

We start with high-quality participants. For more than a decade, MFORCE has been perfecting the proprietary recruitment expertise needed to match the right voices to the right ears nationwide across both B-to-C and B-to-B projects. That's why our competitors routinely turn to us for help meeting specialized sample quotas.

We make sure they're correctly heard. MFORCE has invested years developing a variety of sophisticated in-house research capabilities and building an extended network of specialist partners so that our clients have the options needed to make informed, cost-effective project choices that will lead to the right answers with actionable results.
At MFORCE Research, we aren't interested in responses; we're interested in answers.
• MFORCE can execute on a host of project requirements, from traditional qualitative methodologies to Web site usability testing. MFORCE is also an award-winning, recognized industry leader in the operation of EDC Technology.
• MFORCE concentrates on matchmaking, which means we don't stop at finding the right respondents; we match clients across industries and categories with exceptional, vetted moderators and facilitators from our extensive network of research professionals—the best in the field.
• MFORCE understands that location counts. We provide nationwide facility procurement, ensuring clients secure the right environment for their project specs and budget needs.

And we see it through.  MFORCE takes pride in project management.
• MFORCE will standardize all recruitment reporting and coordinate, police and centralize all field communications for you.
• MFORCE can also accommodate fluctuations in client workloads while keeping overhead at a mininum.
• MFORCE spends less time on the telephone and more time online pre-qualifying respondents, which translates into a highly competitive edge on pricing for recruitment services.
Sampling of Recent MFORCE Research Clients:
| | | | |
| --- | --- | --- | --- |
| Advertising Research Foundation | AT & T | BET Networks | BP Amoco |
| Citibank | Hershey | Logitech | Nissan USA |
| PepsiCo | Tyson Foods | U of C Medical Center | U.S. Census Bureau |